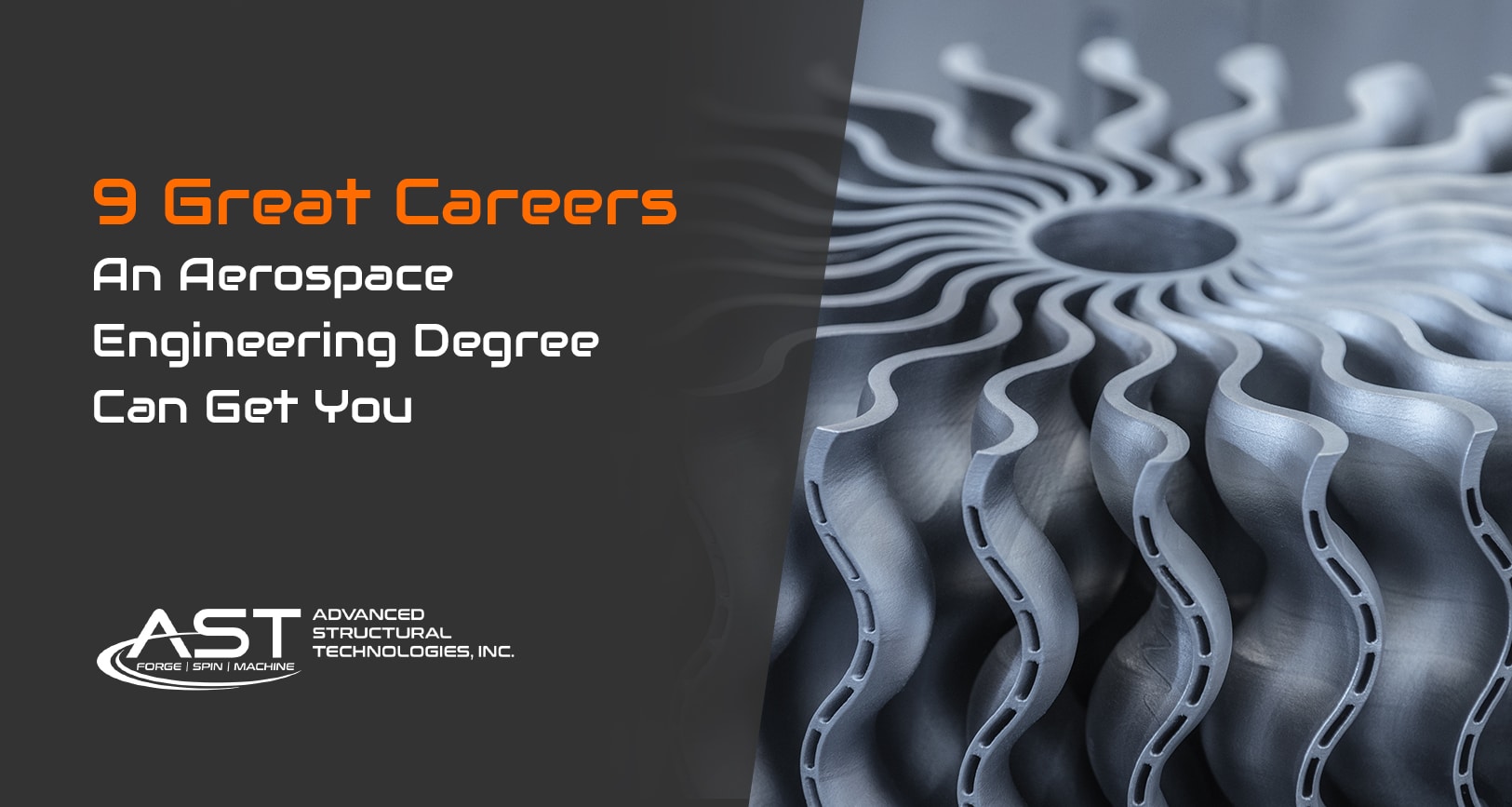 So, do you have an aerospace engineering degree, but are not sure what to do with it? There are a lot of aerospace careers out there, and that can be intimidating for a new graduate. After all, we all want to get started right away with a career that we enjoy. Which is harder for some people than others, and no one wants to start off in the wrong place for them.

That's why we're going to take a look at the career options an aerospace engineering degree can get you. We've collected 9 of the most exciting careers in aerospace so you can get a better idea of what you can do with your degree. 
What Does an Aerospace Engineer Do? 
Aerospace engineers primarily design aircraft, missiles, and spacecraft. They work in the companies that help build these air- and spaceborne systems, including national defense. That means aerospace engineers are employed by manufacturing companies, analysis and design, research and development, and even by the federal government.
However, this is not the limit of an aerospace engineering degree. There are many other roles available that we're going to explore today. 
How Many Jobs are Available in Aerospace? 
According to the Bureau of Labor Statistics, as of 2021, there are approximately 58,800 aerospace engineers employed across the country. This number is expected to grow by 6% for an additional 3,700 jobs by 2031.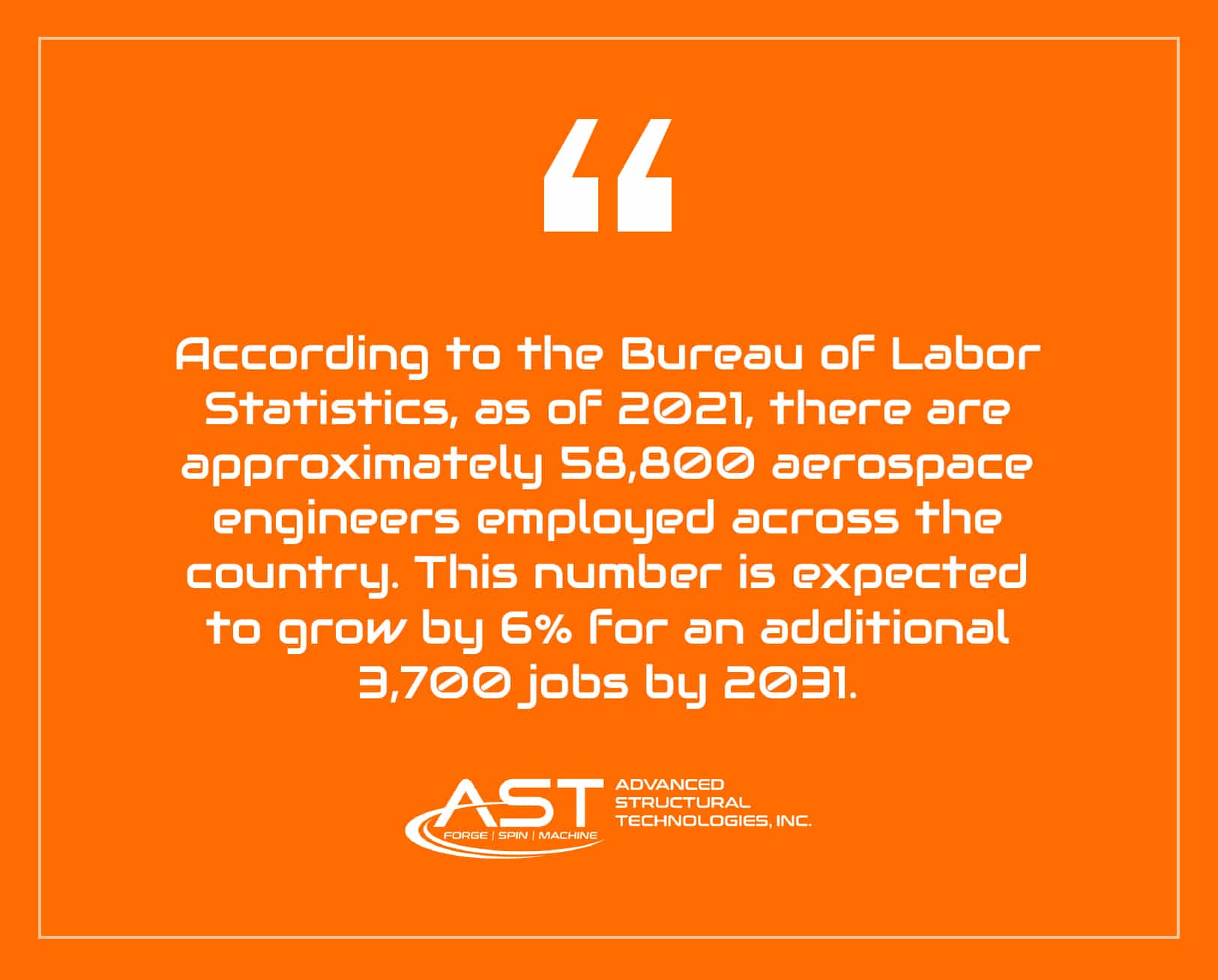 An average aerospace engineer's salary is approximately $122,270 per year.
What Careers can Aerospace Engineering Lead to? 
Aerospace engineering can open many doors. Whether you enjoy working with data or taking a more hands-on approach, there's something for you. It's only a matter of finding the right aerospace career that suits your interests. 
That's why today we're going to look at 9 of the best careers you can pursue with a degree in aerospace engineering.
9 Awesome Aerospace Engineering Careers 
The careers we are going to look at today include technician positions to even what you can expect from a career as a college professor. In terms of salary, these careers span from very lucrative to modest. It all depends on what's most important to you.

Regardless, keep reading if you want to explore what careers will let you get up close and personal with the hardware like aerospace engineers, or create complex digital systems like a data engineer.

Aerospace Technician 
Although you could think of an aerospace technician as the mechanic of the aerospace world, they're an essential member of any aerospace team. It's their job to run and maintain the equipment used to test and prepare spacecraft. They utilize high-level technical knowledge to assess prototypes and maintain the equipment that makes functional aerospace equipment.

As an aerospace technician, you would most likely start your career as a technician or mechanic. From there you'll have options for a variety of positions from engineer to systems administrator after a few years of experience. 
Salary
According to LinkedIn, the average salary for an aerospace technician is $70,510 with a range of $47,000 to $106,000
Aircraft Mechanic 
Aircraft mechanic probably isn't the first thing you think of as an option for an aerospace major. However, a degree in aerospace gives mechanics detailed knowledge and understanding of how both air and spacecraft operate. This gives them the tools they need to effectively assess and maintain aircraft.

In terms of career paths, there are quite a few places you can take your career. You could work yourself up to crew chief and eventually become a maintenance director which takes an average of 11 years according to Zippia. 
Salary 
According to Indeed, an aircraft mechanic salary averages approximately $67,000 per year with a range of $52,000 to $101,000. 
Technical Sales Engineer 
Sales is another one of those careers you don't expect when you think about aerospace. However, technical sales engineers use their technical knowledge to sell engineering equipment.

This job requires you to use extensive knowledge of manufacturing processes and technical information regarding products to convince a client to make a purchase.
 To break into this profession you will need approximately 2-4 years of experience. Technical sales engineers often start as field engineers or similar positions. 
Salary 
The average salary for technical sales engineers is approximately $89,000 according to Zippia. 
Mechanical Engineer
A mechanical engineer, especially one with an aerospace degree, often focuses on the effectiveness of air- and spacecraft components. Anything from sensors to landing gears, mechanical engineers design and research solutions.

Before you achieve this position, you'd most likely start with an engineering internship. From there you will have options to progress in your career to positions such as manufacturing engineer, and eventually manufacturing engineering manager. 
Salary
The average salary for mechanical engineers is approximately $75,000, but can reach up to $97,000. 
Inspector and Compliance Officer
Aerospace inspectors are responsible for evaluating the safety air- and spacecraft. They use blueprints and model specifications to ensure that the equipment is as it should be. In the process, they write reports of their findings to make recommendations for potential changes to improve safety.

Though this position has no educational requirements, a degree such as aerospace engineering is highly recommended. However, breaking into this industry requires several years of experience. Working as a field engineer or in another technical position is a good place to start. 
Salary 
The salary for an inspector or compliance officer averages $88,000 a year.  
Drafter
Drafters are responsible for creating technical drawings and plans with specialized software such as AutoCad for the engineers. An aerospace drafter can expect to create highly detailed schematics for complex air- and spacecraft components.

A drafter typically only needs an associate's degree and a year's experience. However, an aerospace engineering degree will allow you to work on complex projects, likely earning a higher-than-average salary than other drafters. 
Salary
The average salary for drafters is $43,500 a year. However, again, with an aerospace engineering degree and drafting experience, you'd be likely to earn up to $56,000.
Data Analyst
In aerospace, data analysts collect and analyze data to provide researchers and engineers with insights into important design decisions. You can expect to work with teams of engineers and organizational leadership.
To become a data analyst in aerospace, you will likely need to develop additional skills to complement your aerospace knowledge. These can include knowledge of structured query language, statistical programming, and data management. Skilled and experienced data analysts can eventually progress to system managers. 
Salary
The national average for data analysts is $71,000 but can range as high as $109,000. 
College Professor
For those academically minded, a degree in aerospace engineering could open doors for a number of college professor positions in mechanical design and astrophysics. This can be incredibly rewarding for those interested in mentoring aspiring aerospace engineers. Plus, you'll be able to pursue your own research in the comfort of a university setting.

According to Zippia, 46.1% of college professors possess a bachelor's degree. However, it is recommended to pursue a master's. 
Salary
Indeed lists the average salary of a college professor as approximately $57,000 per year. 
Data Engineer 
If you enjoy using software to create complex systems, you should consider a career as a data engineer. Even outside of aerospace, this position is in high demand. These engineers often work as a member of a team, developing new equipment and technologies for their given field. In aerospace, that means being part of the teams that create new and exciting components for air- or spacecraft. 
Data engineers can expect to progress through their careers to new positions such as project manager which puts them on track to senior development managers. 
Salary
The average salary for a data engineer is $138,000 per year.
Entry Level Aerospace Engineer Careers
In terms of entry-level positions, consider aerospace technician or drafter.

Both of these positions typically only require an associate degree. Possessing a bachelor's in aerospace engineering would help bypass some of the experience requirements, and get started right away. Furthermore, with a bachelor's in aerospace, applicants for a drafter position would be more likely hired by a company in the industry. 
How to Learn About Careers in Aerospace Engineering 
When you're looking for a job in aerospace, you can always look to popular choices such as Indeed or LinkedIn. Thousands of companies across industries use these job boards when you look for highly qualified candidates. 
However, sometimes it's better to go straight to the source. Advanced Structural Technologies' aerospace department, for example, provides the most critical portions of rockets, spacecraft, and other components for the aerospace industry. AST specializes in the delivery of complex geometry and non-standard shapes.

If you want to look at your options for careers in aerospace, check out AST's career page for more information. 
Conclusion
At the end of the day, there are so many careers in aerospace that it boils down to what's your preference. Aerospace has something for almost everyone. Data or hardware, management or design, there are so many options. It's only a matter of finding the one that works for you and taking the steps to get there.