Walk into any manufacturing company and you're likely to find an assortment of "trophies" from the production floor. In a machine shop, you might see scrap metal parts used as door stops. Many stamping houses like to hang their skeletons—long strips of metal produced during test runs of progressive dies—while some injection molding companies proudly display the big blobs of melted plastic known as purge patties, created when the machine operator changes from one color or type of material to another.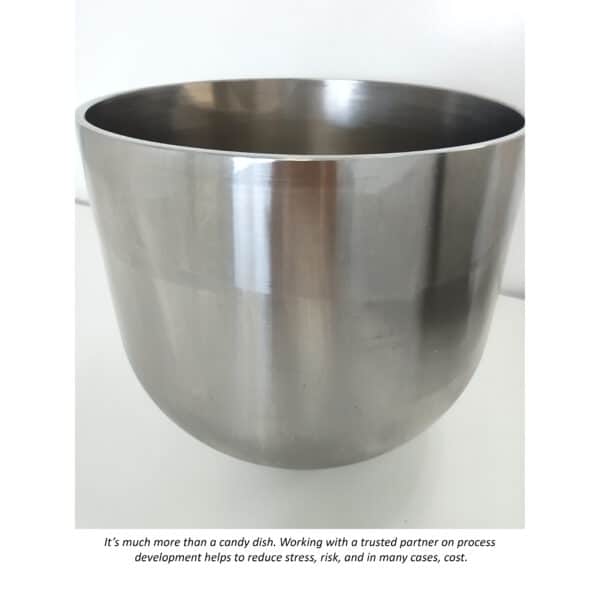 Advanced Structural Technologies has its share of trophies. One of the most prized is the titanium candy dish that sits on the engineering conference room table. It wasn't made by accident though, or the result of a routine machine cleaning, but rather a collaboration between us and one of our customers. As you'll see, it's a fairly common occurrence here.
Given today's advanced manufacturing technology and digitized, computer-controlled everything, it might come as a surprise that manufacturers need to experiment from time to time. Sometimes a little trial and error is in order—to fine-tune a process or figure out how a particular alloy will behave during forming or machining. This is especially true for manufacturers willing to tackle the projects that others turn down; for shops that aren't afraid to try out new materials and novel shapes, and explore the boundaries of what's possible.
Such was the case with the candy dish. We can't share the customer name, but we can tell you it was an aerospace OEM that wanted to develop a single-piece rocket component from a proprietary grade of titanium. Now, we've made plenty of single-piece rocket components over the years and have no problem generating even the most complex shapes. It was the metal that raised the question mark.
Here again, a non-disclosure agreement applies and the details must remain sparse, but it's enough to say that this titanium alloy is finicky and that it tends to crack unless you take specific, preventative steps during the forming process.
Apparently, this was why the aerospace OEM (now one of our best customers) came to us. The "other guys" they were working with previously had given it their best shot and failed. Having heard of our experience in this challenging arena, the OEM asked us if A) we could make the parts and B) do so without compromising metallurgical integrity. Never one to walk away from a challenge, our response was unequivocal. "Absolutely. Send it over."
The titanium candy dish proves that we were successful. Yes, it took some time to iron out the kinks and determine the optimal process, but that's what we do here. It's just one of the many parts we've made over the years as part of a collaborative effort with a customer who's asked us to push the envelope.
Doing so brings benefits to both sides of the table. In this instance, the main goal was to check the "yes, it's possible to flow form this particular alloy" box. The customer was in a bind and we helped them out of it. But sometimes, it's questions like "Can you make this super complex geometry?" or "How can we turn this four-part welded assembly into a single, no-seam component?" that open the door to these collaborations.
That's because every manufacturer wants to avoid surprises—no matter what they produce—but especially in the demanding, fast-paced world of rocket development. No one wants to receive the unpleasant phone call three months into the project that the supplier is struggling with forming a material or they can't meet some of the tolerance requirements. And an excellent way to flush out those challenges is by engaging in collaborative, pre-production process development and detailed manufacturability studies.
Taking this approach helps to ensure predictable delivery and a competitive piece price while eliminating the surprises that lead to cost overruns, unexpected delays, and missed milestones. So don't think of it as an expensive candy dish. Think of it as a risk reducer, and a way to sleep better at night.
Contact us to obtain a quote or run your challenging projects by us. We'd be happy to collaborate to create your version of a candy dish!