What Is A CNC Machinist? And How to Become One [Full Guide]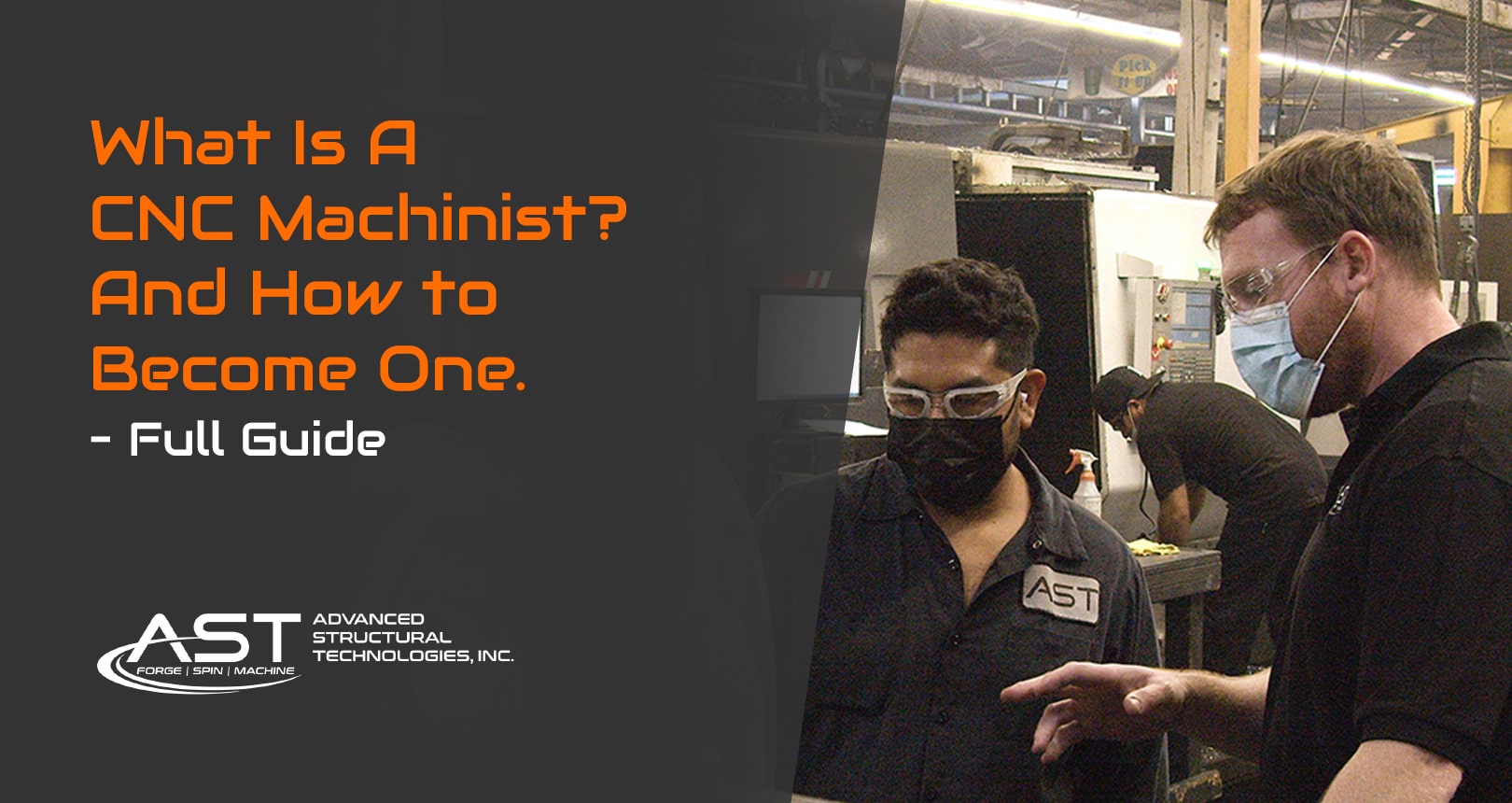 Machined product components play a critical role in today's world – from medical equipment components to transportation and aerospace parts.. society could not function without them. That's why setting up and programming the machines responsible for producing these pieces requires skill, precision and extreme attention to detail.
Who's the person who ensures their quality through each step? 
To create precise objects and parts made out of metal, wood and plastic, a computer numerical control (CNC) machine is one of the best tools for the job.
To control the CNC machines and ensure the product creation process goes smoothly, CNC machinists are in charge of the operations and output. The CNC machinist is the person who runs the machine and is part of a team that crafts sophisticated performance parts and components from raw materials.
If you have an eye for attention to detail, like working with your hands, have an interest in working with machinery, and want to combine elements of mechanical designs, technical drawings, mathematics and computer programming, you might be interested in becoming a CNC machinist yourself.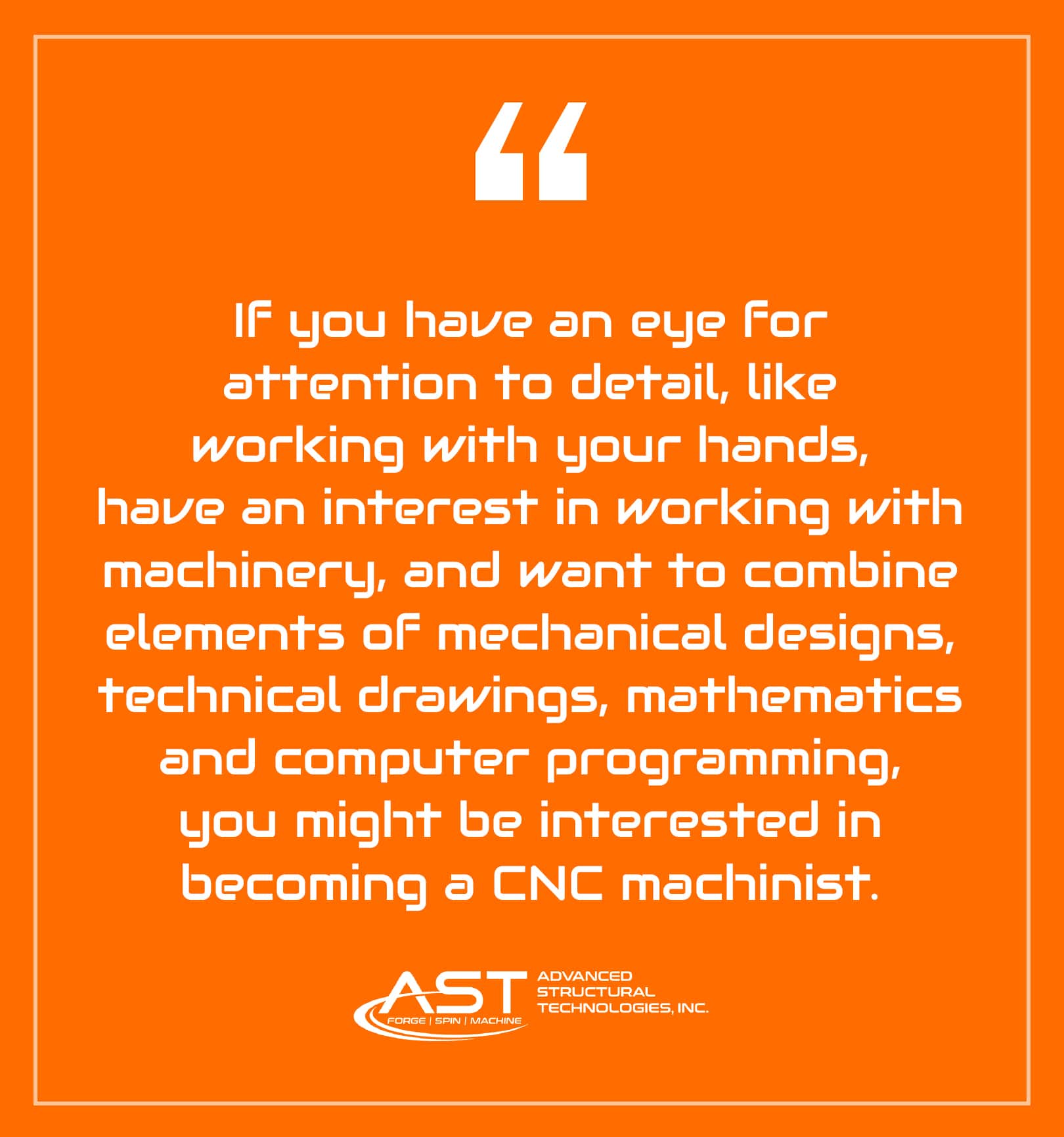 This article is the ultimate guide to becoming a CNC machinist. Keep reading to learn:
Exactly what a CNC machinist does

How you can contribute to different industries

One man's journey from beginner to supervisor at Advanced Structural Technologies

What the typical duties are as a CNC machinist at AST and in general

How you can become a CNC machinist and different routes you can take to get there

What to expect in terms of salary

And more
What Is A CNC Machinist?
While exactness and precision are required to produce a part, and that part needs to be produced multiple times, CNC machines have replaced the need to create these products manually. Computer Numerical Control (CNC) machinists are the ones who set up and operate a variety of CNC machines and equipment in a manufacturing plant. 
A CNC machinist has the enormous duty of setting-up, maintaining and programming these machines. This job requires a great amount of knowledge and attention to detail. Skilled CNC machinists are responsible for a product throughout the entire manufacturing process, from an initial concept to a tangible, finished item.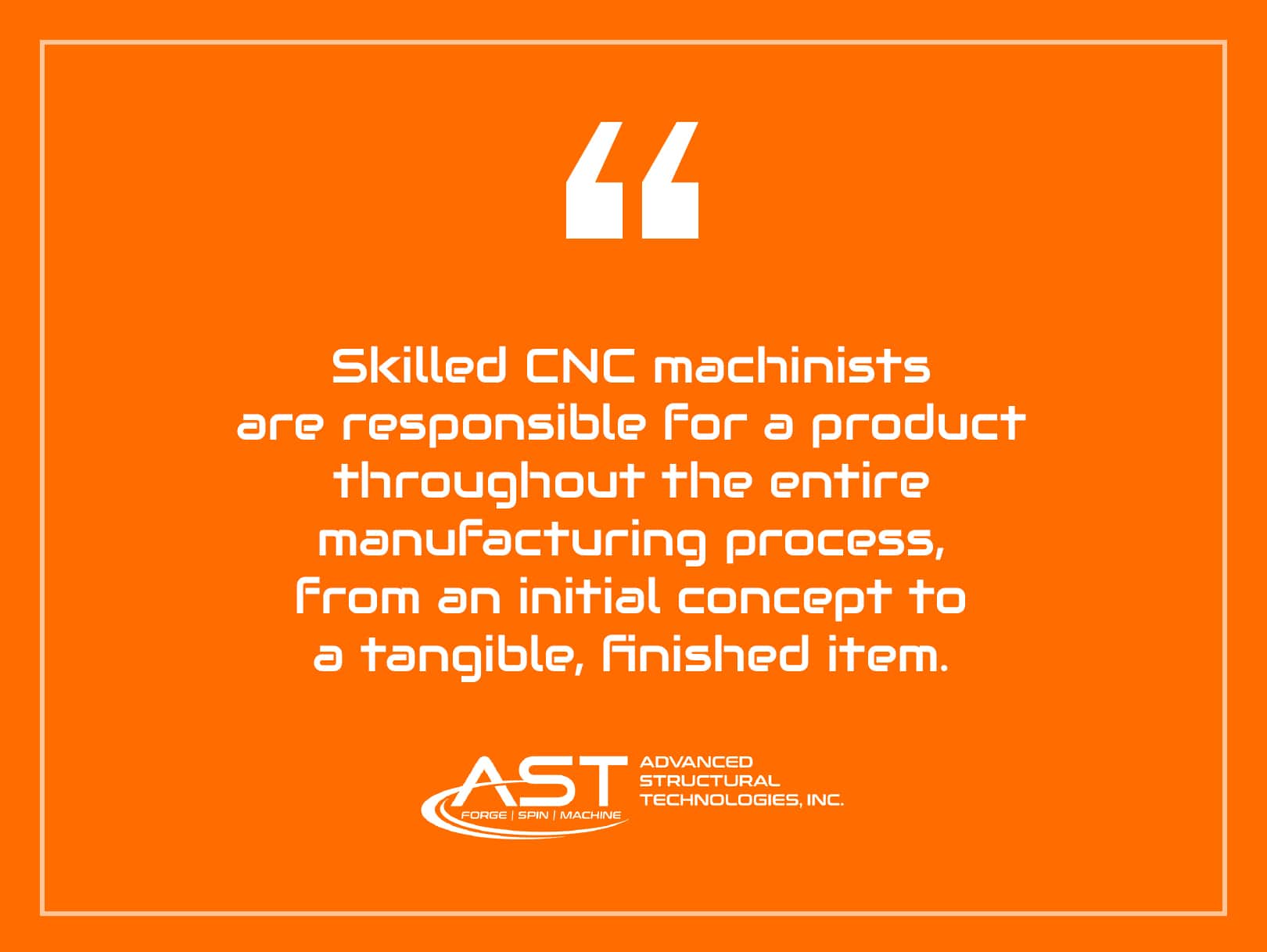 They determine the path the machine takes, the cut speed and the feed rate by inputting programming instructions in the form of blueprints, sketches or computer-aided manufacturing (CAM) files to get the job done.
CNC machinists work in clean, professional settings like factories, machine shops and tool rooms for industries including:
aerospace, 

defense, 

transportation, 

commercial, 

electronics, 

optical, 

oil and gas,

firearms, 

And medical
Some CNC machinists go on to pursue careers in metrology, workholding, quality control inspection, programming, mechanical assembly, maintenance and machine tool building, as well as work as service technicians in the field. Experienced CNC machinists may also pursue careers as managers, supervisors, or business owners. 
The path you take is up to you, but having the experience and technical expertise of a CNC machinist opens doors across many industries and opportunities. 
What's The Day-To-Day Like For A CNC Machinist?
To describe what the day-to-day for a CNC machinist might be, let's take a look at a CNC machinist's story here at Advanced Structural Technologies.
Meet John. He had a neighbor who worked at a nearby machine shop who had asked him to do shop cleaning, random jobs. John took the job and enjoyed working on manual machines, and making things out of metal. 
Soon, he started operating Bridgeport machines and then became a Setup Man on the team, setting up CNC machines. "Setting up" means a way to hold up a wheel or fixtures to hold a wheel in place, for example. He would get tools, tool holders and set up for a job. 
From there, he gained experience and stepped into a CNC machinist role. He began running parts on the machines, and watching G code to make sure everything ran smoothly. 
The next step is making Programs to run the actual CNC machine in Mastercam, the software we use here at AST to program the CAM (the computer-aided manufacturing files that tell the machine what to do).
As a CNC machinist, he then applies all the tools to cut the metal. Run software and if it looks good, he creates G code. With the files inputted into the machine, he tells the tool what to do and where, along with the managing the feeds & speeds.
John has since become a supervisor jumping around between the forge and spin departments since those are the departments that first create the piece before it goes to the Machine Shop here at AST.
From there, mechanical engineers (another step up the progression ladder), do 3D surfacing and use more advanced technology. Another progression would be drafting, which requires learning Solidworks, the software we use at Advanced Structural Technologies.
You can see that John learned to manage and program the machines, creating a precise product from blanks. In general, CNC machinists can expect to come into work and be assigned to one of many machines in the facility, depending on what products need to be manufactured that day. 
The machine may need to be set up, programmed or calibrated before starting. Once the machine is ready, you will likely stick around to run the machine. Once items are done being processed by the machine, they will need to be removed, inspected and packaged for their next destination in the facility.
Depending on the size of the manufacturing plant, one person (the CNC machinist) would do this, or you might split these job into separate roles, but more on that below.
CNC Machinist Job Description
When looking for CNC jobs, you'll see job descriptions similar to this:
As a CNC machinist, you'll program, run and monitor computer-numeric-controlled machines. You'll ensure that the machines are operating correctly and that pieces are cut to perfection. You also perform maintenance on the machines and replace dull or aged parts as necessary.
You're a detail-oriented, tech-savvy creator who enjoys solving problems and has high hand-eye coordination, as well as knowledge in design, mathematics, mechanics, processing, and production. 
You are physically able to stand all day as you attend to different tasks such as:
Read blueprints and sketches

Create work procedures

Interpret geometric dimensioning

Properly set up, program, operate and disassemble CNC mills and lathes, as well as manual mills and lathes

Use CNC software, like CAM software

Use precision measuring tools

Monitor machine speed

Analyze products for quality and defects

Smooth part or product surfaces

Make part modifications as required
What Is The Difference Between A CNC Operator And A CNC Machinist
This is a common question and important to know as you start your search for a CNC Machinist job because both will come up. Essentially, the role of a CNC machinist is more advanced than that of an operator.. 
The progression for a manufacturing team working with CNC typically looks like this:
Operator – beginner

Setup Man – parts setup parts for the machine, ensure it's spinning right and has the right tools 

Programmer – writing programs for the machines (technically, a programmer needs to be a machinist before becoming a programmer)

CNC Machinist – encompasses all of the above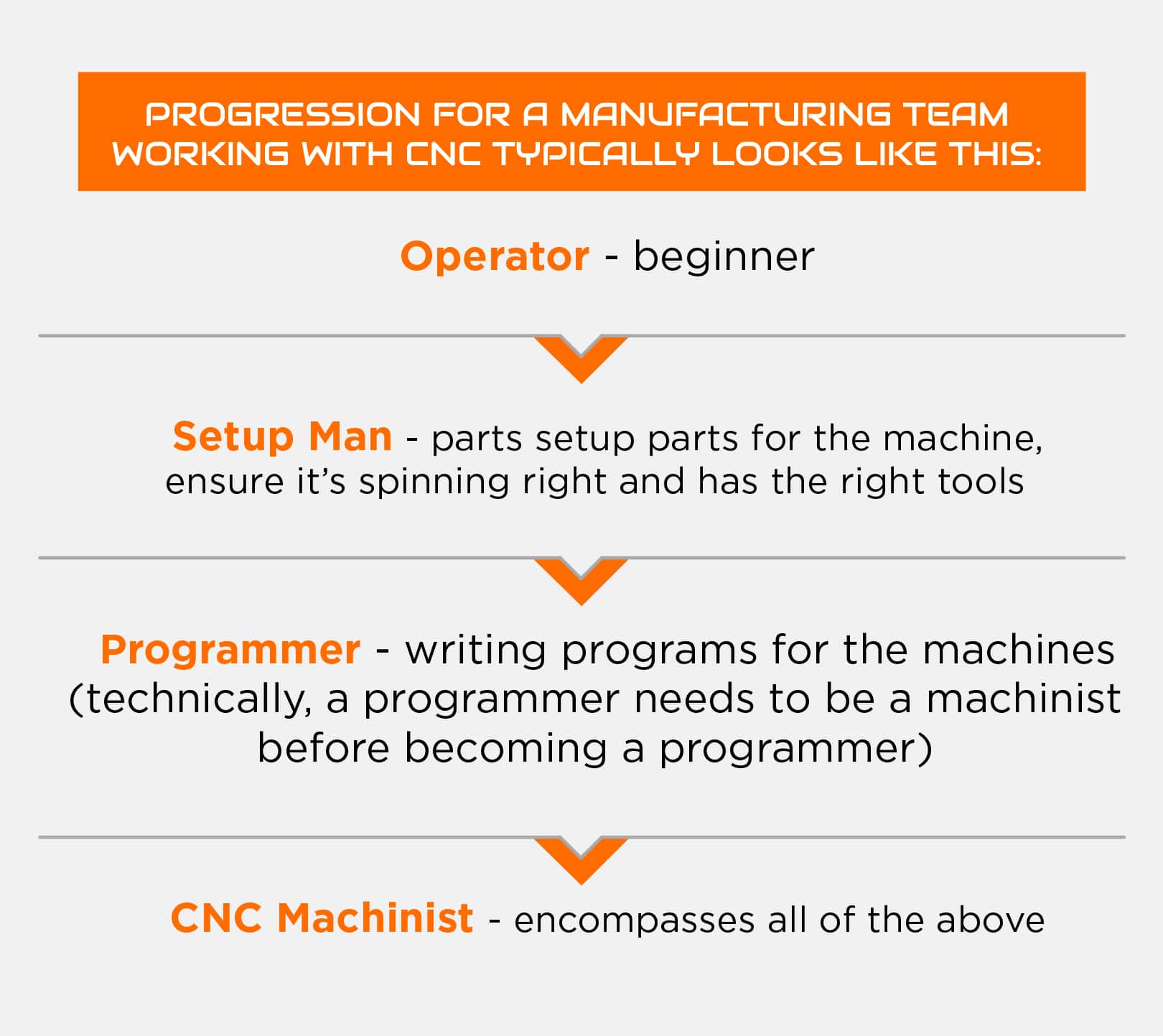 Machinists can accurately machine parts using a variety of machines and methods. They rely on their skills and expertise, which are often obtained through an accredited trade school or many years of on-the-job experience. More on that further down.
In a nutshell, an operator's job is to load stock material and run parts as they gain experience. An operator is a beginning role. 
Since the machines are very complex, it's essential for machinists to first acquire basic machine operation before taking on more responsibility. CNC Operators often progress to become CNC Machinists. John took a similar path on his road to becoming a CNC machinist.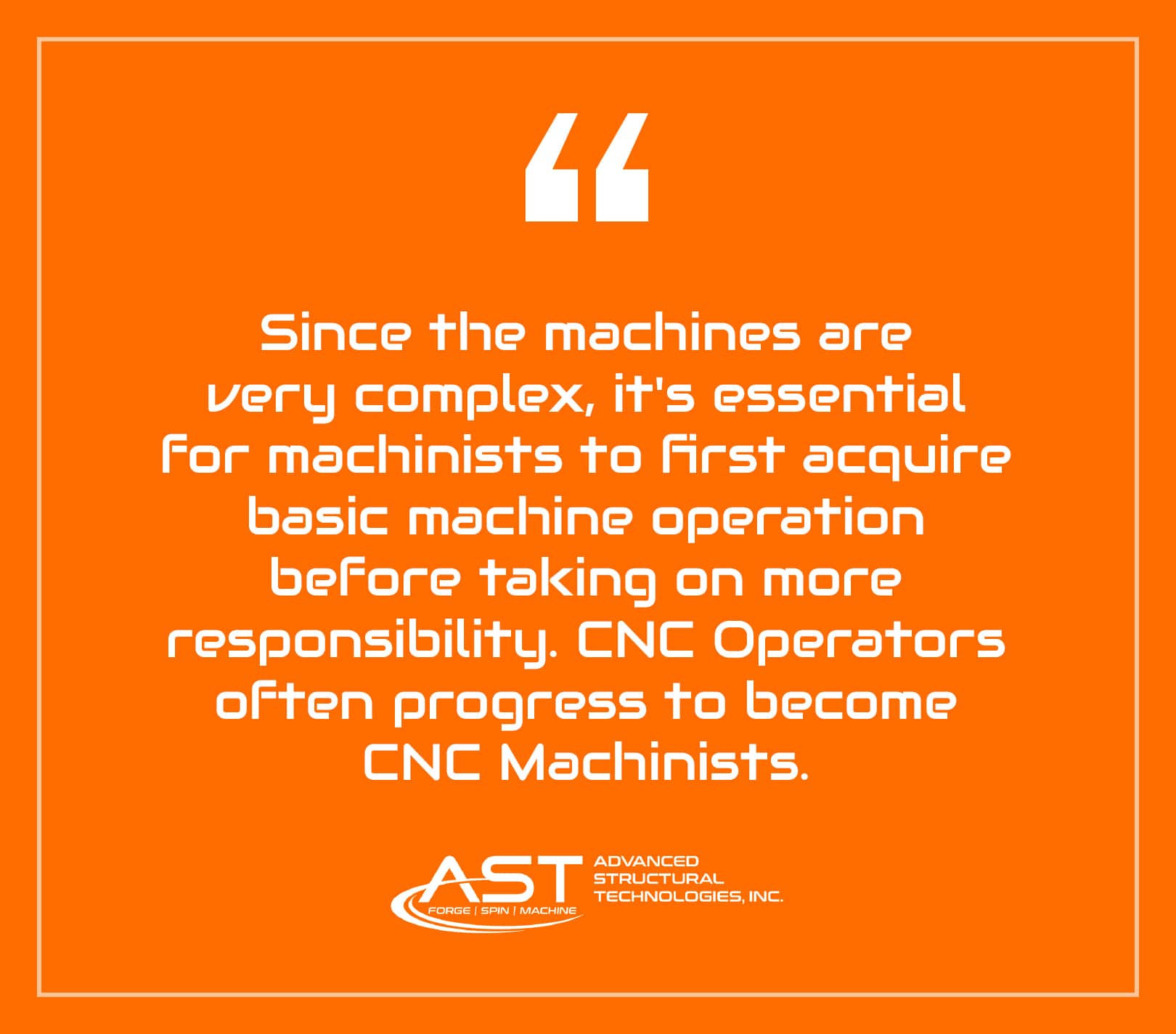 Once experience is gained, a CNC machinist will:
Program machinery

Ensure quality control

Troubleshoot and fix mechanical issues

Supervise and manage CNC operators
Note that some manufactures call a "CNC machinist" the "Set-up Operator". This is because set-up operators are the most self-sufficient and by nature, have to understand both programming and operating in addition to setup.
Together both roles also work with a programmer, who gives their program to the set-up operator, or CNC machinist who will load everything into the machine.
What Is A CNC Machinist at AST? (Aerospace And Defense)
The role here at Advanced Structural Technologies is traditional in the sense that the CNC machinist loads the machine, runs it, takes the newly created part out and checks for quality. They also try to keep the spindle running as often as possible to keep productivity up.
As an Operator, you take the part off the pallet, stick it into the chuck and the machine does it's job. It's loading and unloading, and quality control.
To progress, to a CNC machinist, you'll want to pay attention to what is being done in the machine; what tools are cutting; learning and understanding what the code is so the machine cuts correctly and eventually make your own programs.
This is the key – wanting to learn how to perfect the NC program, G code, and M code.
At AST, CNC machinists primarily manufacture parts for the aerospace and defense industries. Both require a great attention to detail, as you must precisely construct every component to avoid damage to the aircraft, tank, or other machine. There is no room for error.
Devices in the aerospace industry encounter fast air currents, high speed and extreme pressures, and it's the job of a CNC machinist to ensure every part of the aircraft they work on meets high precision requirements.
What Are a CNC Machinist's Duties
The specific duties you can expect to execute as a CNC machinist are as follows..

DUTY #1 – Understand the CNC machining process
Computer numerical control (CNC) machining is a process in which pre-programmed computer software dictates the movement of factory tools and machinery. The machinery is very complex and can include anything from programming mills and lathes to routers and grinders. CNC equipment cuts, grinds, and drills into raw material with great precision and as a machinist, you'll adjust the machine to control the speed, material feed, and the path of the cut.
As a CNC machinist, you will guide the commands of machining tools using buttons, levers and wheels. A common misconception is that CNC systems are similar to a regular set of computer components. However, CNC machining is unique in its software programs and consoles.
People who are detailed oriented, mathematically minded, good at problem-solving and good with technology, typically do well at understanding CNC machinery.
DUTY #2 – Set Up the Machines
Depending on how your team is set-up, typically a CNC machinist will be responsible for setting up the machine so that it runs smoothly and can reliably create a quality product. This involves stocking the machine with needed materials (and/or working with or overseeing the CNC operator who can help with this). Then you'll perform regular checks on the output to ensure the machine is doing a good job to create a quality product.
This duty requires a keen attention to detail, as well as good time management skills and communication skills. It may also require adaptability and the ability to think critically and solve problems if changes to the machine need to be made.
DUTY #3 – Inspect Product Quality
After the product is created, as a CNC machinist, you are responsible for inspecting the final product. You want to make sure it's free of defects and ready to move on to the next step in the production process.
To be successful at this, you'll again rely on your attention to detail, and those who are most successful typically take pride in creating a well made product. You get to see the product throughout the creation process and you got to be a part of bringing something new to life. So if you love the process of creating new things, this may be right up your alley. 
Additionally, in order to see a product through to completion, you need to have a good work ethic. The most successful CNC machinists have a passion for their work and take responsibility for the final product, being willing to walk the extra mile to create a successful end product.
What is it like being a CNC machinist?
To fully envision yourself in this role, you need to understand what a day in the life of a CNC machinist looks like. CNC machinists are self-sufficient and take responsibility for their work. There is no room for error and you need to be very precise in setting up the machines and inspecting the end product. 
Now, what is the work environment like as a CNC machinist? You will work with a team to load and unload, and program the machines. And in many cases, you will work in different machines at different times. This brings variety to the job when different products need to be made. On the other hand, you may specialize in one machine and become an expert at that. 
Like John, a machinist at AST, you may start out as an operator and as you gain experience in working with the machines and understanding the software, you will gain more responsibility. The environment is typically a clean and professional environment where the people you work with are very knowledgeable and take responsibility for a quality end product.
You'll participate in making products like:
Antilock brakes

Computer parts

Furniture

Hydraulic parts

Marine, aerospace and aviation parts

Military equipment

Robots

Screws for orthopedic implants and medical devices

Steel bolts

Trophies and plaques

Vehicle frames, parts and pistons
What is a CNC machinist salary?
Starting salary for CNC machinist
As with any industry, there are many factors the contribute to a salary, including location, experience, and the industry. The wage can be anywhere from a salary starting at $18.00 an hour (or $37,000 annually) to upwards of $50.00 per hour for those with advanced skills.
Average pay for a CNC machinist
According to the U.S. Bureau of Labor Statistics, the median annual wage for CNC machinists was $42,260 in May 2020. You may earn more or less than that starting out. 
Earning potential for a CNC machinist
Of course, there is much room for growth that can help increase your pay. You can become a supervisor, a journeyman machinist, CNC technician, or even move into another industry-related field such as welder or forklift driver. Expanding your knowledge and experience is never a bad bet when trying to boost your salary.
Additionally, the location you live in may also determine what your salary will look like. According to the Bureau of Labor Statistics (BLS), Washington, New York, and Massachusetts have some of the highest earnings salaries for CNC machinists. 
How to become a CNC machinist
To become a CNC machinist you need to learn the in's and out's of setting up and operating the machines. You can learn this either through on-the-job experience like John did at AST, or by completing training and acquiring certification.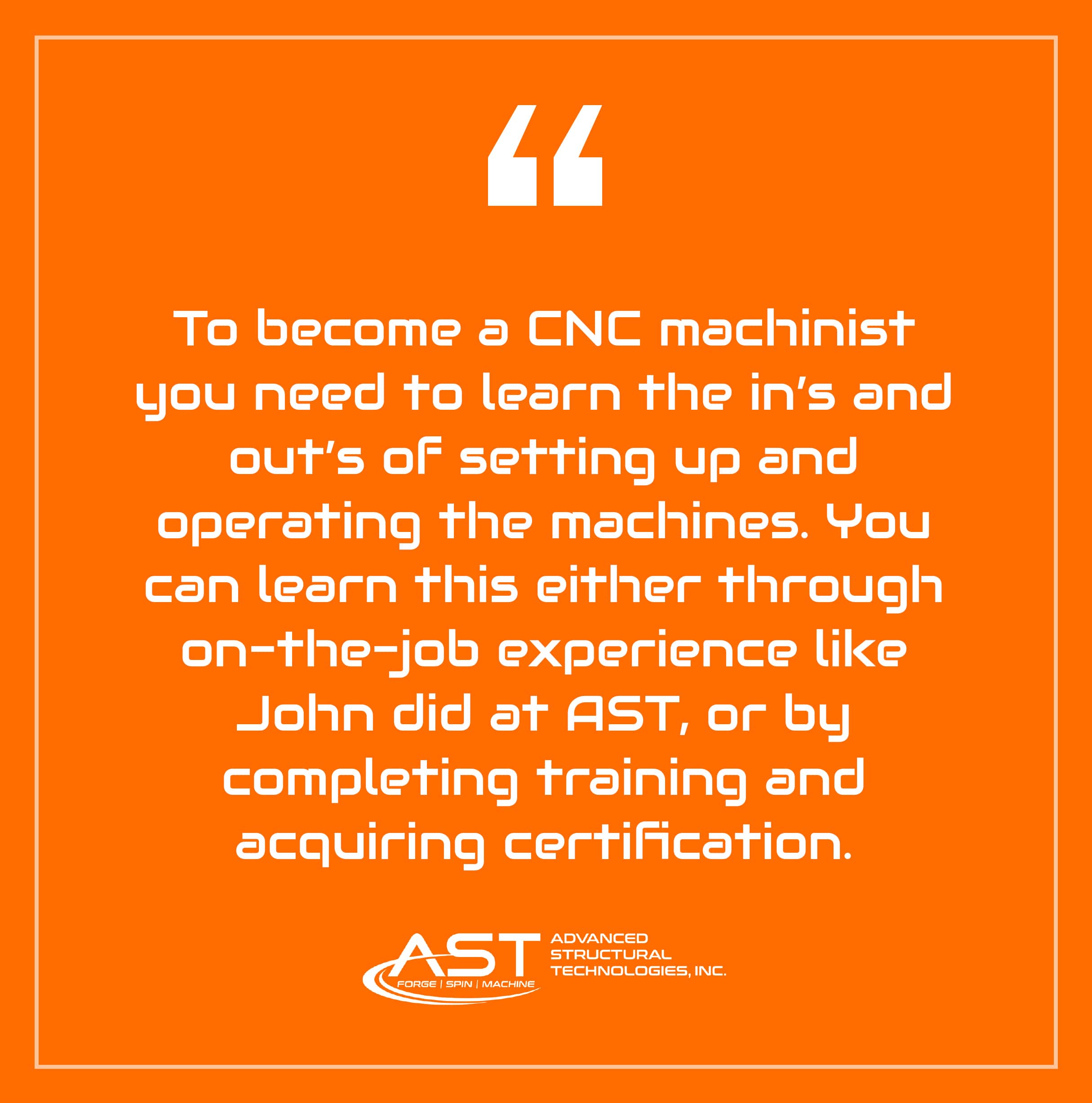 You will likely start out as a CNC operator and climb the professional ladder to CNC machinist through experience and training.
At this point, you might be wondering, "How long does it take to advance to a machinist role?" Unfortunately, there is no set answer for that. This is dependent on several factors, including one's job performance, skill level, and educational background.

Step #1 – Complete A High School Diploma or GED
It's recommended you at least have your GED and then search out training from a vocational school, trade school, community college, or technical institute.
Step #2 – CNC Machinist Training
While you can start out without any formal training or certification, certainly completing a formal training program will catch the attention of employers and give you a competitive advantage when applying for jobs.
It can also increase your chances of advancing quicker in the industry, such as from operator to machinist. Here, you will learn how to complete many advanced techniques in a classroom and hands-on setting.
Again, while formal training will increase your knowledge and perhaps give you an advantage, you can also learn how to become a machinist on the job. This route normally means you are employed with a company in an entry-level position, but while you are on the job, you are also learning to become a CNC machinist for this company. You will likely work under a journeyman or senior CNC machinist who will teach you the ropes of machining.
Either way, you will need to learn everything from reading blueprints and interpreting geometric dimensioning and tolerancing to the programming, setup, and operation of CNC lathes and mills.
Step #3 – Hands-on Experience
Becoming a CNC machinist requires proper education and training, and you also need hands-on experience. 
While there are online programs you can find, it's best to have hands-on experience because as a CNC Machinist, you will be working in person with people and machines to create a quality product. 
You will need practice in setting up, programming and operating CNC mills and lathes. You also need to learn everything from reading blueprints and interpreting geometric dimensioning and tolerancing to the programming, setup and operation of CNC machinery.
Step #4 – Get Certified
Once you've completed your training, it's important that you get certified as CNC Machinist. Many vocational schools and training programs include this as part of the program. However, if you went a different route and earn on-the-job experience or took an apprenticeship, you will need to acquire certification on your own. 
There are several different certifications available, with each closely related to the work you'll be doing in the industry and with the specific machinery that you choose. Speak with your journeyman, or a recruiter to get an idea of the types of certification that you'll need. Ideally, you can acquire multiple certifications to give you the credentials that a number of employers would appreciate and value. 
Typically to acquire certification, like the NIMS (National Institute of Metalworking Skills), you'll need to take a test, which includes both a written exam and a hands-on component to show your skills.
Want to Work With AST as a CNC Machinist?
If you'd like to work as a CNC machinist, consider working with the team at Advanced Structural Technologies, an industry-leading manufacturer with locations in California and 150,000 sq ft of manufacturing facilities. You'll benefit from a manufacturing history of 20+ years, and get to work with a company that's earned the reputation as a leader in space/aerospace. 
You can be part of a team that contributes to various industries including;
Automotive – manufacturing high-end aftermarket wheels for cars and motorcycles.

Military – Creating Abrams tank wheels

Aerospace/Space – Manufacturing COPV components, and other rocket components such as nozzles and combustion chambers

Alternative energy – manufacturing liners and cylinders for high-pressure gas storage and transport
Learn more about CNC machinist positions at AST and visit the job listings page here to discover whether there are any open opportunities available now.