Flow Forming – A Complete Overview

What is flow forming?
Some experts liken it to the art of pottery. A craftsperson places a specific quantity of malleable material—in this case, clay—onto a rotating turntable, then uses their hands to gently coax what started as a randomly-shaped blob upwards and outwards into a functional, frequently beautiful vessel of some kind. 
With a few distinct exceptions, flow forming is a bit like this. It, too, can be used to make vessels, but ones of metal rather than clay. And instead of fingers and thumbs, mechanical rollers apply pressure to the burgeoning workpiece, which will end up immensely stronger and far more accurate than the finest piece of pottery ever made. 
Flow forming is not limited to vessel-shaped objects. As you'll see, manufacturers can use it to make a wide variety of tubes and cones, with wall thicknesses that range from whisper-thin to thick as a billet. 
Difference between flow forming and spinning
Flow forming isn't some brand new metalworking technology, however. Its roots go back many years. That's because people have been using a similar process—spin forming—to turn thin sheets of metal into bowls and cooking utensils for almost as long as they've made them from clay. 
It's this centuries-old metalworking that has served as the foundation for the far more accurate, capable, and modern counterpart called flow forming, which a range of high-tech industries have come to depend on.
Flow forming Machinery
Developed in Sweden in the 1950s, flow forming is sometimes referred to as shear spinning, shear forming, and flow turning. 
Whatever you call it, there are some primary differences between it and the much older spin forming.
Both are rotary operations performed on a machine tool that closely resembles a traditional woodworking lathe (albeit one that's much more rigid and powerful). And both employ a mandrel that serves to define the final workpiece. 
But where spin forming uses either a single roller or a tool known as a "spoon" to progressively force a circular disk of metal (by hand, in many cases) over a fairly simple cone or bowl-like mandrel, flow forming replaces the spoon just mentioned with a series of rollers (usually three), whose motion is precisely controlled by a CNC machine tool.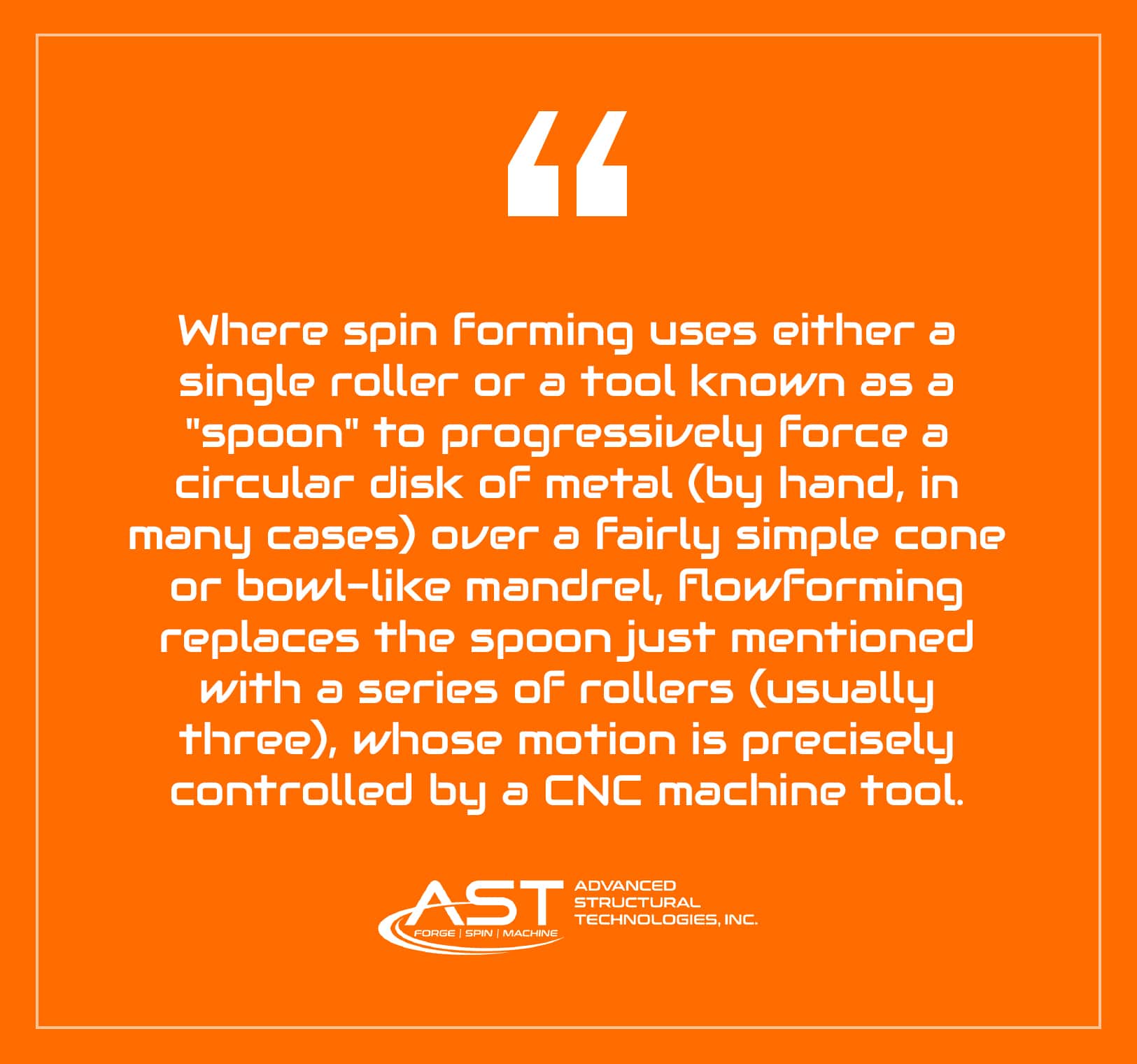 With spin forming, very little metal is displaced: what began as 1/16-inch thick aluminum remains close to that thickness in the completed workpiece, whatever its shape.
Not so with flow forming, which is all about metal displacement. As its name describes, this advanced metalworking process forces the material to "flow" into the desired shape. In addition, flow forming starts with a machined, forged, or deep-drawn tube or cup-shaped "preform" that is much thicker than the thin circular disk found in spin forming operations.

Flow forming Process
Two types of flow forming exist and they are usually executed by CNC machinists. The so-called "forward" version begins by placing the preform over a hardened, precision-ground steel mandrel and firmly clamping it using the lathe's hydraulic tailstock. The rollers are then engaged, pushing against the now rotating preform from the tailstock end forward, towards the spindle. Since the material has nowhere else to go, it gradually gives way before the rollers, thus elongating as it conforms to the mandrel within.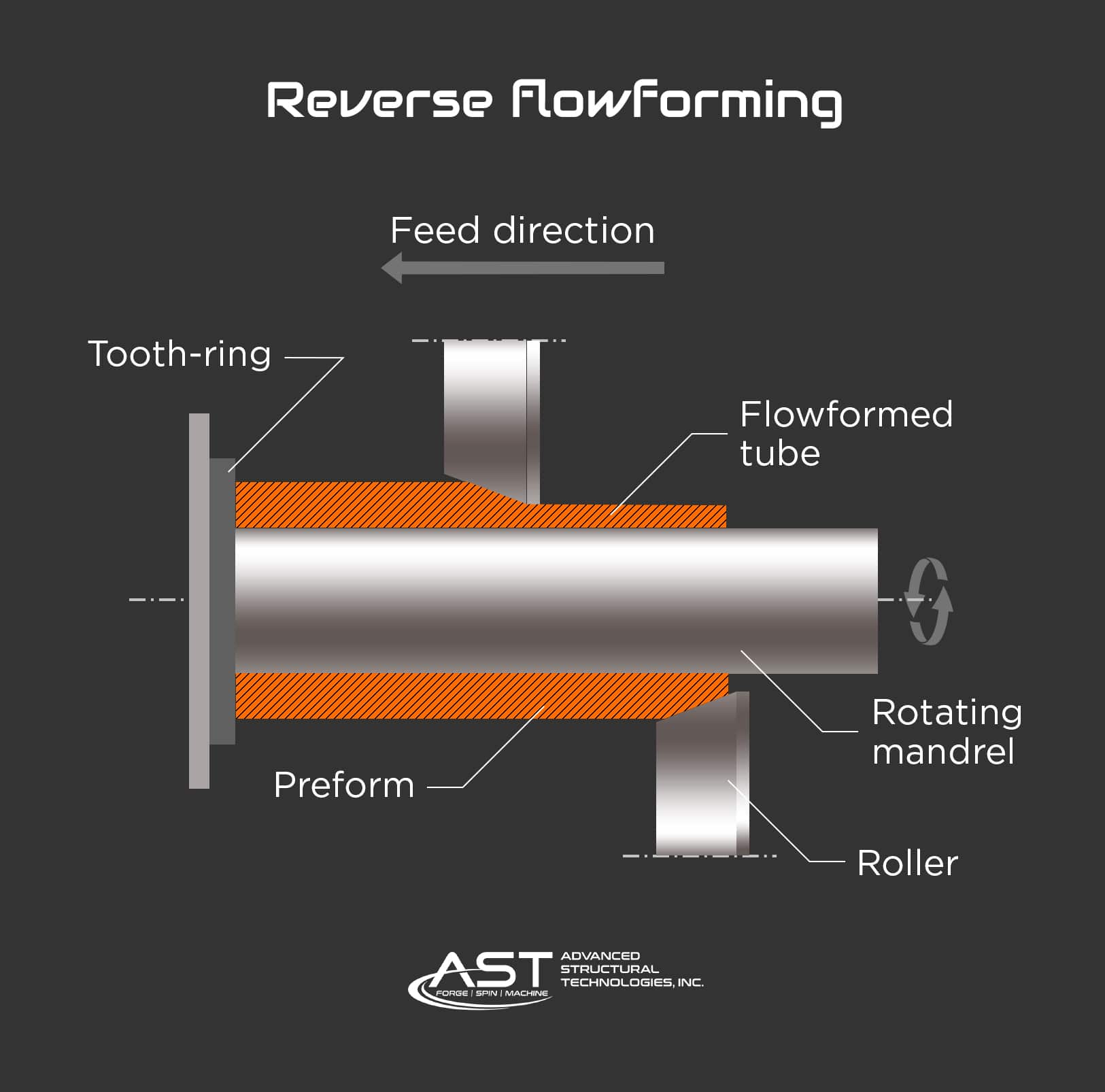 Forward flow forming is often used to create parts with a closed or semi-closed end—the nose cone of a rocket, for example, or its engine housing. Reverse flow forming, on the other hand, is designed to make open-ended cylinders and tubes. Here, a tube-shaped preform is utilized. Here again, this is placed on the mandrel, but is clamped near the spindle rather than the tailstock; since it's open on one end, the material is free to flow in the opposite direction, away from the rollers and elongating as it goes.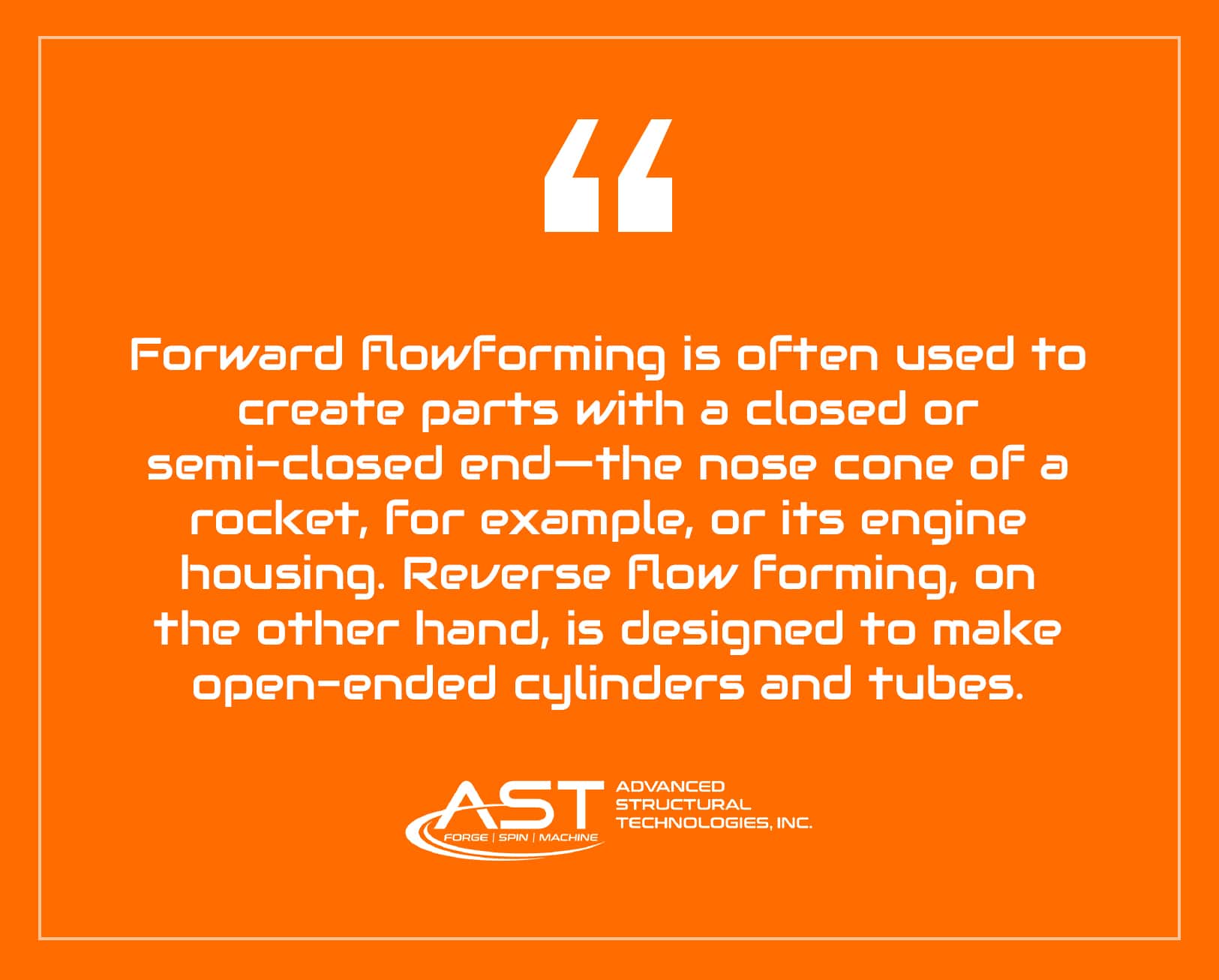 In either case, the workpiece's inner surface exactly replicates that of the mandrel's exterior. And because the rollers exert tremendous pressure, the interior also takes on an exceptionally fine finish, typically resulting in a surface roughness of Ra 0.6 µm (24 µin) or so. The part's exterior is not this smooth but is still quite good, close to that of a drawn pipe. Nor does either of the surfaces have the machining marks that would result if the part were to be turned on a conventional lathe. 
Flow forming benefits
1. Accuracy
Flow forming provides several important benefits. For starters, the process stretches the metal's grain structure longitudinally, greatly increasing its strength and fatigue resistance. Very complex shapes with long length-to-diameter ratios are also possible, with walls measuring 1 mm (0.039 in.) or less in thickness and deviating by no more than 0.1 mm (0.0039 in.) on average. Accuracies within +/- 0.127 mm (0.005 in.) are typical, depending on the part's size, geometry, and material. Tapered and thick to thin walls are also possible, as are integrated weld flanges and similar mounting features.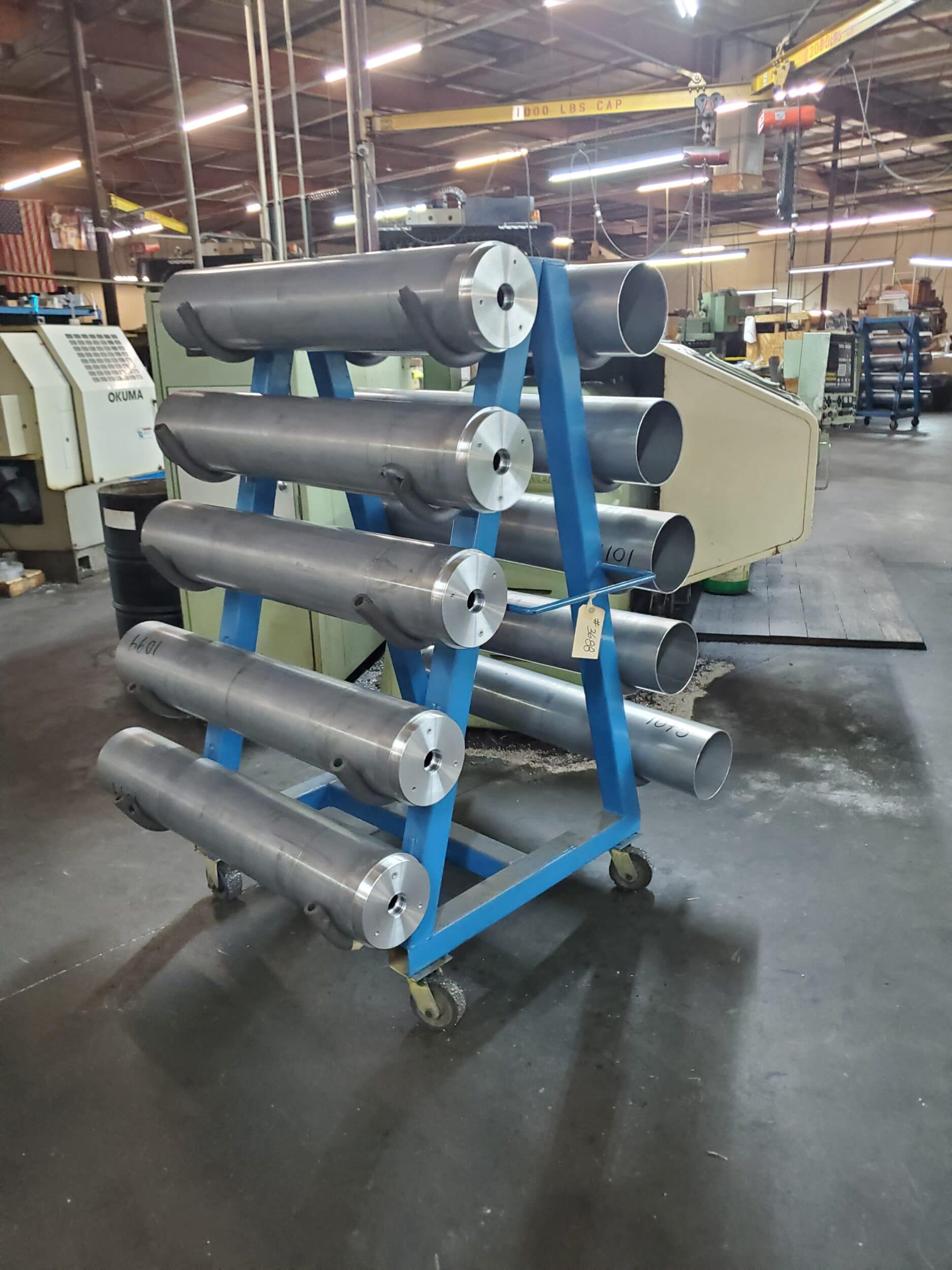 It's not surprising that flow forming works exceptionally well on soft metals such as aluminum and copper, but even very hard materials can be flow formed. AISI 304 and 321 stainless steel, for instance, as well as titanium alloys, 15-5 and 17-4 PH, nickel-based super alloys like Inconel and Hastelloy, Maraging steels, and hardened and tempered steel alloys up to 52 HRC are all candidates for this innovative process. These materials are especially common in space and aircraft components, where high strength and light weight are critical. 
2. Wide Variety Of Applications
Flow forming can produce a wide variety of aerospace, nuclear, defense, and some high-performance automotive parts. These range in size from a soda can to a missile housing many meters in length, and boast very smooth surface finishes and a high degree of dimensional accuracy. A flow-formed components' metallurgical properties are also significantly enhanced due to the rollers' compressive effects, which causes the material grains to stretch and align during processing. Ultimately, this saves weight and resources. 

3. Cost Efficiency
Strength and surface finish are critical attributes for many parts, but so are cost and lead time. Because flow forming requires but a single dedicated tool (the mandrel) and can often produce complete even very complex workpieces in a single operation, piece prices are low and turnaround times are fast, regardless of batch size. 
Need a flow forming company?
For more information on flow forming, spin forming, forging, and more, give us a call here at Advanced Structural Technologies Inc. in California. We know all there is to know about forming metal.